Japan Challenge – EBWC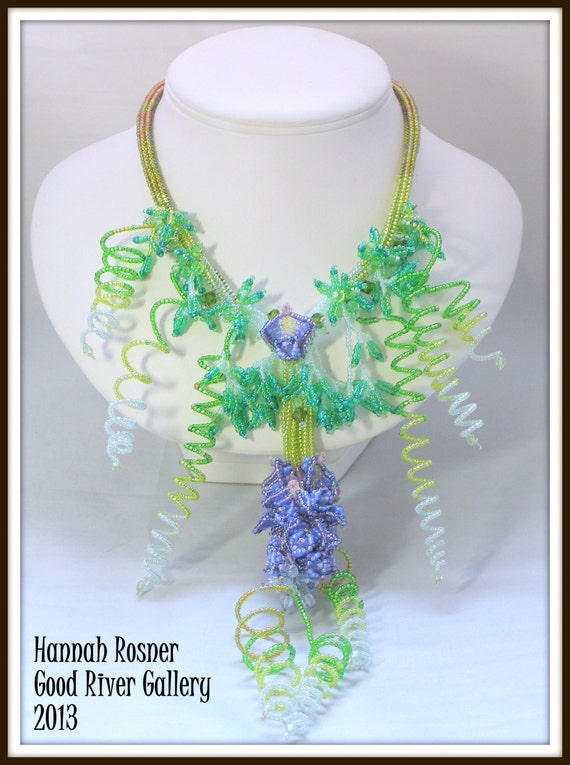 Remember last month I said I was working on some Japanese inspired patterns?  I've started with a rework and rewrite.  The February Challenge for my most active team,  The Etsy BeadWeavers, is right up my alley.
This beaded collar necklace has my signature fringe, and is fashioned in some of my favorite colors. It is made of Swarovski crystal and Japanese glass seed beads. Fits a 16″ neck. The center front from top to bottom of fringe is approximately 7″.
This necklace was made for the February 2013 challenge for The Etsy Beadweaver Group. The February 2013 Challenge is called "Japan" and this piece was based off the lovely wisteria I saw in Nara when I was in Japan as a teenager.
Please visit our team blog at www.etsy-beadweavers.blogspot.com between the 9th and 15th of February to vote for your favorite entry! My team is so talented – you'll be delighted by the entries. We have a new challenge every month, so favorite the blog and stop back at the beginning of the month to see what we have created.
This item is available for sale at http://hannahrachel.etsy.com
You an also purchase the tutorial for this piece: https://www.etsy.com/listing/52824577/hannah-rosner-wisteria  PLEASE NOTE THAT THIS PATTERN DOES USE MEMORY WIRE FOR THOSE COILS
Related articles