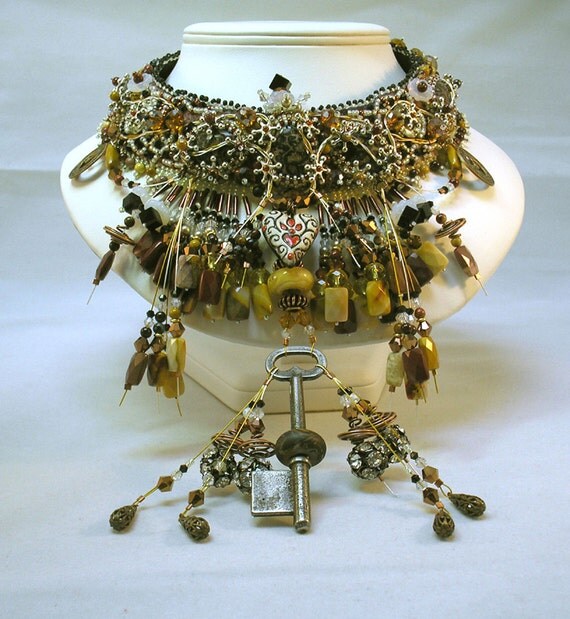 In case you didn't catch it for the last newsletter, I've dropped prices on some of my older even count flat peyote patterns to $7.50.  I'm thinking it might be permanent, but I reserve the right to change my mind.
Also, I put a whole bunch of jewelry and beaded stuff on super clearance.  Some of it is over 75% off.  I just need room in my little studio!
This lead me to a crazy bout of Spring Cleaning, so I've also added a little Steampunk Surprise Grab Bag to my Etsy store.  There are three levels to choose from and each level has $10-$15 more than you're paying for.  They might include any of the following:
*Tiny Skeleton Keys
*Rifle Casings
* Velvet Ribbon, Silk Ribbon, Lace, Ultrasuede, sew-on fringe, other bits and pieces of fiber
*Cabochons
* Strange Pendants or Beadables that I've found
* Coins or coin pendants
*Possibly will contain lampwork
No cogs or watch parts, sorry. I need those for my Zipperlicious cuff bracelet class this summer at Bead & Button.
Feel free to let me know what colors you prefer when you order.
Also let me know if you like eye items or if eyeball pendants and/or eye cabochons freak you out.