ROCKY MOUNTAIN BEAD SOCIETY SPRING BEAD SHOW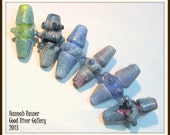 I can't wait to see the folks from the Rocky Mountain Bead Society again.  If you are in Denver and haven't been to this show, you are missing a real treat.  
Beads, beads, beads and more beads.  Tutorials and more kits than I've ever had beforehand!  I'll also have some art glass and lampworking tools!  I've moved my spot over next to Beyond Beadery's Booth & will be teaching a couple of classes as well as selling my work.
——–
I'm also scheduled for a lampworking demo on Saturday late afternoon.  I have no idea what I'll be demo-ing yet, though.  See you there!