New FLOWERS on my Etsy!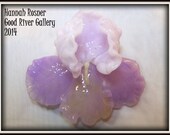 I was really behind in creating these guys, but I've finally got a full new batch of flowers on my Etsy…  Irises, orchids and a couple of other varieties, all set for you.  Anyone else really looking forward to spring?
Get them before they're gone, because I'm heading off to the Great Lakes Beadworkers Guild Spring Bead Bazaar this upcoming weekend.
Thanks, and Enjoy!