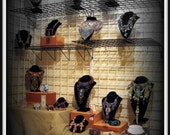 Well… that's it for February. Onto March.  Seems like this year is already going much too fast.
Registration
 for 
Bead & Button
classes is still rolling along. Sherry Serafini and I have added a co-taught class.  Details are to the left.  If you haven't had a chance yet to sign up, there are still spots available in some of my classes.  
Check out 
this section
 for what I'm teaching and links to the pages.  
I've got a class in Oregon, one in NorCal and the Great Lakes Beadworkers Guild Spring Bead Bonanza.  Read on! 
On March 8 (just a couple of days from now), I'm teaching the Sea Urchin Bracelet at Dancing Beads in Medford Oregon.  This was one of the brand new classes I rolled out for the Tucson bead shows.  It sold out there – grab it here before it sells out again!  It uses the newly released Czech two-hole triangles. The same day, I'm teaching another section of the Etsy Successworkshop.  If you missed it at the store last time, this is one of my most popular lectures.  To register for either, head over to http://dancingbeads.com/classes.html or call Carol at the store at 541.690.1376.
Soutache is still really big, and guess what? I'll be teaching my Filigree Fun Soutache Pendant for Bead Dreams in Stockton California on Saturday, March 29th.  If interested, then give Enola a call at 209.464.2323.  It requires that you are comfortable with even count peyote.  No previous soutache experience is necessary.
For my friends on the East Coast and in the north, please stay warm and safe and I hope to see you sometime soon!
Hannah