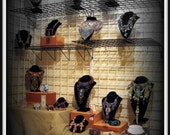 Welcome to 2014!
——-
A few announcements first…  My
Etsy
store will be available for instant downloads ONLY until about January 14th.  After that, look for my jewelry work back online.  For kits and beads, you'll have to wait until after the Tucson show in February.  More on that to the 
left
!
——–
So… news…  Registration for Bead & Button classes opens January 7th.
  Check out 
this section
 for what I'm teaching and links to the pages.  You can browse online right now, but won't be able to sign up until opening day.  Last year most of my registrations happened within the first 24 hours,
 though, so if you see a class you really want, its worth your time to jump right on it!
To the right is the piece I teased you with in the last email, using the brand new Starman Two-Hole Triangles.  This year, I am a Starman Beads trendsetter, and the new styles that I've been sent are extraordinarily exciting. This is one of the very first classes I'll be teaching with this bead, and you can now sign up for this and other classes at the Best Bead Show in Tucson in 
February 2
014!  See details to the 
left
.
Finally…  January 25 & 26th I'll be in Georgia teaching at BeadJoux.  Make a purse using the designs and techniques in my Toho Challenge Purse from 2013!  This piece is ADVANCED and the class is nearly full.  For information, head over to their website (below)… 
Also, sometime shortly they'll have a full trunk show of my work.  Jewelry, lampwork beads, tutorials and a few kits.
Keep warm this winter, and I hope to see you sometime soon!
Hannah