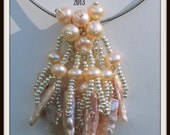 Well, alrighty, here it is halfway through December and I'm not quite sure what happened. Wasn't it just April last week? Here's what's going on the rest of December in December at Good River Gallery.
——-
This weekend is the Annual Holiday Sale at Glass Axis. I'll have my work there… as usual. I think I've only missed one or two in the past decade. Finished pieces priced anywhere from gift-reasonable through outrageous. More details below!
Kathy, at
Bead Soup in Savage Maryland, is going to be wrapping up my trunk show of my work pretty soon. So, if you're in the Maryland area stop by and see what she's got!
I sent a final batch of
Tutorials and a few KITS
to her. They're perfect to beat the upcoming winter blahs (do you get those? I do) and there are even some new tutorials that take a jiffy to make for last minute gifts.
——-
Speaking of kits, I've just loaded some new ones onto my Etsy page. I know… that section has been https://www.etsy.com/shop/HannahRachel?section_id=10681708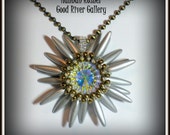 super low over the past year or so. Anyhow, new kits and more. Have fun, check it out at
Just to let you know, though… This Monday is the last day I can ship to arrive before Christmas. After that I'll be shutting down everything in my Etsy shop except for the automatic downloads (tutorials and patterns) until the new year!
Happy beading!
Hannah