My thanks for the first half of September go to John from the Best Bead Show and his FiberandBeads team. I can't believe the summer is over. We closed up the pool here and UlyBear celebrated his 9th birthday with a new bone-bone and some extra snacks. For those of you who remember Sasha's struggles with cancer, I want to tell you that on the 16th she came upstairs for the first time since she got sick (not counting when she got carried upstairs for baths). She's stronger than ever and her fur has grown in super soft.
Lots going on still in September (just a few days days left, I know, where did time go).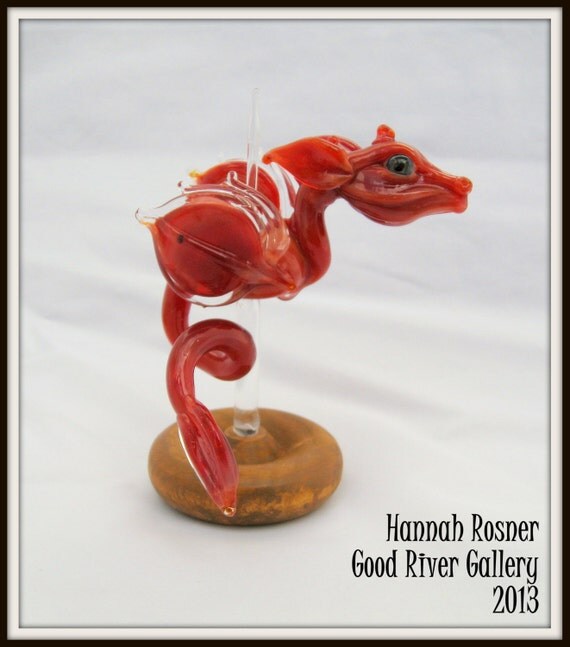 Check my new work out at
Northern Virginia Bead Society Show
at the end of this month! Its runs Saturday and Sunday, September 28 & 29. I've never gone to this show beforehand, so lets see how it goes! I'll have new lampwork beads and sculpture, beadweaving tutorials and kits. When I wrote this email, I had a herd of 7 dragons who were going – we'll see how many of them I have when I get there since I've got them up for sale in my
Etsy shop
and I plan on making more! I'm never sure exactly what will be in the booth, so you'll have to drop by and see what I've got. My mom will be helping (actually, that's what she thinks, really she's going to just be hanging out and hopefully having fun)!
October is gearing up to be insanely busy (in a good way… I hope). We have the new eye/cab class on the schedule at The Gahanna Bead Studio. Helen is going to rename it something better than my Eye of Ra pendant, but you'll have to check the website to see its new name! Its at the end of October, so there's plenty of time and its not up on the website yet since I just sent her the specs this morning. The store has also implemented a Meet and Bead the first Friday of every month. This month it occurs on October 4th – hope to see you there! From October 25-27th, I'll be showing my work a
t a Trunk Show in the store. I should have some larger pendants and beads that will make perfect last-minute Halloween jewelry!
I'll have gift-priced and fall-themed pendants in Northern California at my friend John Rizzo's Pumpkin Patch (info below, unfortunately I won't be in Sonoma County for his show but you should stop by and say hello to him and see my new stuff) and we've got the annual Pumpkin Patch here in Columbus Ohio at the newly relocated Glass Axis October 11th -13th. If Glass Axis is holding a booth at this year's Circleville Pumpkin Festival October 16-19 I might have some jewelry at that show as well although I won't be there in person. The Halloween/Autumn jewelry is currently on preview on Etsy. Check it out!
I'll be showing at The Great Lakes Beadworkers Guild Fall
Bead Bonanza October 13 and will be teaching four days of classes plus giving a lecture to the group at the Great Lakes Bead Daze. The Great Lakes Beadworkers Guild is full of people who I consider good friends, so I think it'll just be one big party. To the right, the Firecracker bracelet. For more photos of the classes I'll be teaching, head on over to their Facebook page.
Happy beading!